Here's how it works: I have three dice. Actually I have a lot more than that, but this game only uses three. You volunteer for the challenge, and I roll the dice. I give you the results, and you write a character based on them. Here's a breakdown of the dice and what they affect:
D8/D10/D12:
Allomantic ability. The D8 includes the eight basic metals, the D10 includes the possibility of
not
being an Allomancer, and the D12 includes atium and gold, as well as the potential to not be an Allomancer at all. If you request the D12, your character might wind up as an obligator, as Seers/Augurs are not known outside the Ministry. If you don't request a specific die, I will default to the D10.
Skaa/Noble (Optional)
: If you wish, I'll roll the numbered die again. If you get an even result, your character is noble. Odd, your character is a skaa. I will only do this with the D8 and D10 options; having skaa Seers/Augurs doesn't really make much sense.
Gender (Optional)
: If asked, I'll roll the numbered die one more time. If the result is even, your character is female. Odd, they're male.
Attribute Development:
The six faces on the die are Weak, Underdeveloped, Typical, Improved, Superior, and Maximum. I will roll this die once* for the following attributes: Social Skills, Combat Ability, and Resources. If asked, I will also roll for Allomantic Skill.
*Based on participant suggestions, I might add more categories to this section. If this happens, I will likely start restricting the results to only include a maximum of one "Maximum" and "Weak" result each to keep things balanced.
Friend/Foe (Optional):
Give me the name of one of your characters, or if another player consents, the name of one of their characters. This die will decide whether the two characters are, well, friends or foes.
But what are the prizes? Other than having a shiny new character to play with, you will be entitled to use this shiny badge in your character's sig or at the bottom of their app: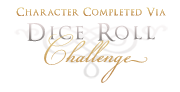 I'm sure you're all just thrilled with your prize.
Edited by KChan, 03 January 2015 - 03:57 AM.