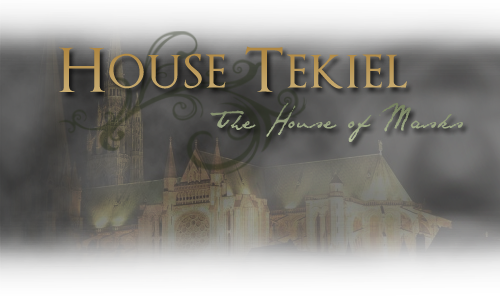 Player Leadership Information
Handle:
KChan
OoC Account:
Camille
Contact:
Send me a letter via canal route. Or just look in my OoC account info; that works too.
General Information
House Name:
Tekiel
Classification:
Great House
Socioeconomic Rating:
8.3
Colors:
Green with silver and gold
General Description:
Coming Soon
Character Information
Head:
Hector Tekiel
Heir:
Aldwin Tekiel
Player Members:
-
Kardin Tekiel
-
Sanna Tekiel
-
Janus Tekiel
NPC Members:
-Corinne Tekiel
-Janelle Elariel
(nee Tekiel)
Miscellaneous:
-N/A
Inquisition Notes
Allomancy:
B-
Integrity:
B-
Inquisiton's notes:
[[INCOMPLETE]]

Danger Rating: C+.
Home & Wealth
Current Location:
Luthadel
Ancestral Home:
Klessium, Eastern Dominance
Financial Avenue:
Shipping, Insurance, and Securities
Diplomacy
-Venture –

[Negative]

–
-Elariel –

[Neutral]

–
-Deveaux –

[Neutral]

–
-Sureau –

[Ally]

–
-Hasting –

[Ally]

–
-Casuana –

[Negative]

–
-Lekal –

[Positive]

–
-Raisaal –

[Positive]

–
-Fathvell –

[Ally]

–
-Deslandes –

[Ally]

–
This wealthy Eastern Dominance-based House has been dealing in building and repairing canals for years. Tekiel's patronage has led to Deslandes making a bit for Luthadel, which has in turn founded a strong alliance between the two Houses.
-Valois –

Enemy

–
This Eastern-based House is one of Tekiel's competitors in the shipping market, and made a bid for Luthadel around the same time as Tekiel. The fact that Tekiel overwhelmed them and became a Great House while Valois is still in limbo in the outskirts of Luthadel has created a point of contention between the two.
Contracts
Sureau:
Tekiel handles the shipping of Sureau goods, and has first rights to contracts with Sureau's vassals and subcontractors.
Hasting:
When shipping into areas Tekiel routes cover, Hasting ships exclusively with Tekiel.
Deslandes:
House Deslandes maintains and repairs Tekiel's canal routes in the East, and transports their wares, materials, and personnel exclusively on Tekiel routes.
Ingram:
House Ingram ships its textile products into Luthadel via Tekiel routes.
Governance & Customs
--COMING SOON--
History
--COMING SOON--
Keep Description
--COMING SOON--