With Eclipse's permission, I've started to give writing Aurora of
House Urvon
a shot. For context, she's sister to
Astor Urvon
and cousin to
Trenton Urvon
. This is just my first run for her history, taking the point about her irritation with Astor and running with it, having loads of fun. So far, I've just worked through Astor's app. If you've read Trenton's, I've not yet incorporated any details from that into here yet, though I don't think it conflicts at all with what I've written. Though I've added 1 or 2 details from
Bernard Urvon's app
, I've yet to deal with her relationship with her father.
So this is basically just a History sketch focusing on her relationship with her brother. I'll incorporate her relationships with her cousin and parents in subsequent drafts.
Lastly, I had a look at the character dice rolls
I got KChan to do for me ages ago, and one is
perfect
for Aurora. I've included at the bottom, but I'll put here too. I think you'll agree it works in nicely.
Rolled Attributes
Social Skills:
Superior
Combat Ability:
Underdeveloped
Resources:
Improved
Allomantic Skill:
Maximum
---
AURORA URVON
Noble Misting
Name/Handle:
Haelbarde
Contact:
PM first, IM after I've talked to you
Name:
Aurora Urvon
Type:
Noble
Age:
17
Gender:
Female
Place of Origin:
Fellise
Occupation:
Heir Wannabe
Relationship Status:
Single
(If Applicable. Remove section if your character has no powers)
Type of Powers:
Misting
Metals Used:
Zinc
Degree of Skill:
Advanced
Status:
Hidden
(Include height, build, hair, eyes, and their general demeanor in your description, in prose format - no subheaders, please, and no images.)
(Also include their moral attitudes, prejudices, and any mental disorders. Do not list, quote, or copy/paste anything from the sixteen personality types - you can use them as personal reference for your writing, but do your own work for your own character. We want to see your writing, not someone else's classifications.)
Special Skills:
(For example, things like Reading, Writing, Knife Fighting, Lying, Observation, etc.)
Strengths:
(Try to make strengths and weaknesses relevant to your character. Try to tie them into your character's personality, experiences, relationships, etc.)
Weaknesses:
(Make sure your character's strengths and weaknesses are balanced. Try to avoid talking up your character's strengths and downplaying their weaknesses. We all have flaws; it's what makes us human, and our characters feel real. This is a great place to make your character even more interesting.)
(Give this thought. Make the character feel like a real person. Include major events in the character's life. For example, if the character is an Allomancer, include how he or she snapped. Try to understand what events shaped your character into his current perspective. Also, for simplicity, please name the year the character was born and their parents' name, for the purposes of the Timeline thread. The year the character is born is simply 918 - their age.)
Aurora was born in 901 to Bernard and Katarina Urvon. She was their second child, their first child, Astor, being 18 months old by this point. This would become the first thing on her long, but ever growing, list of grievances she had with her brother. He was always first. Never mind that it wasn't his fault.
Once they both started being educated, she finally managed to beat her brother in something. For all his bookishness, he had no interest in politics, or balls, luncheons, or really doing anything with anyone. Nor did he really care for etiquette. She'd often see him skipping etiquette and dancing lessons, when he could get away with it, either hiding in the library or fighting imaginary foes with a stick. At the time, she hadn't started having lessons in any of those, but she knew that when she did, she would work super hard, ace everything, and overtake her brother, proving to everyone that she was better than he was. She refused to let her brother here the end of it. Now 8, she got joy out of reminding him incessantly about how much better she was than him, constantly teasing him about anything he struggled in. There were only 2 thing that he was actually competent at. He actually practiced both debating and dueling with their dad. If he actually started arguing back when she pestered him, it was a fair fight. He could even beat her in an argument. Another point on her list of grievances. Worse, her mum didn't want to let her learn to duel. "A noble lady has no need to learn to duel. It's beneath them, and you might injure yourself, or mar your appearance." How did they expect her to prove she was better than Astor if they didn't learn to duel?
The next year (910), Astor was snapped a Coinshot. He was an allomancer, with a showy ability. In theory it'd let him fly. This made him insufferable, taking every opportunity to rub his new power in her face. The most infuriating thing he'd do would be when she was practicing walking with high-heeled shoes, he'd use his power to push her just enough that she'd over balance and trip. To everyone else, it just look liked clumsiness, and she hated that. She could feel the push, and new it was him. No one believed her, as much as she protested about it. It'd be her turn eventually, and she *would* snap, and she *would* be better at whatever power she'd got.
Sure enough, in 911 her time came, and sure enough, she snapped. Even better, she snapped a Rioter, which was just splendid. It was exactly what she would have picked, given the choice, other than being a full mistborn of course. Also, now she could pay Astor back for all those times he'd rubbed his alomancy in her face, or made her look clumsy by making her trip up. Whenever she teased him, she could now make him feel exactly how she wanted him to. Astor annoyingly did not learn his lesson, and continued to harass her with his powers. This was kept up for years.
Later that year, Alfred Urvon, the current Head of House Urvon died, and so their father become the Head of the House. This was great news for Aurora. If her dad was Lord Urvon, did that make her a princess or something? As she grew older, she realized that he would eventually have to appoint a heir, who would eventually take over House Urvon. Obviously, then, her dad was going to have to appoint her heir, as anyone could see Astor would be completely useless for the job.
Astor debuted at the age of 16, a year before Aurora, and it was the worse. Particularly when he started getting set up with dates. All of them were dismal flops because all he'd do would be ramble about the latest dusty tome he'd found in the Canton of Doctrine library. When he didn't have a date, he basically didn't socialize at all, as far as she could tell. She was appalled he'd waste opportunities to talk to people like that. When it was her turn, she'd show him how it was done.
While she waited for her turn to debut, she knew that it was customary for the House Head to designate a heir after they had debuted, and Astor was obviously his favourite. Of course, she knew it just wouldn't work. Astor would be so much better suited for working in the Ministry. She suggested this to her parents frequently even. But 6 months after Astor's debut, incidentally around her 15
th
birthday, her dad named Astor as his Heir. She was furious. She confronted Astor, throwing a tantrum. "Why are you the heir? I'm a Rioter, I can actually politick, unlike you, I should be heir! You should just be my damned bodyguard!" She stormed off, Rioting him to ensure he felt terrible about it.
Eventually she turned 16, and it was her turn to debut, and it was glorious! So many people to meet, to talk to, and to dance with. And all the different dresses the ladies wore! She couldn't get enough of balls, always disappointed when they ended. She has spent the last 2 years making friends, and building a social network, hoping that if she can organize some lucrative deal for the family by herself, her father will just have to name her Heir instead, confirming to everyone, once and for all, that she is indeed far superior to her brother.
(A scene from this character's viewpoint. Take care in picking a scene. It could be a scene from the past or it could happen practically during current events. In any case, write something important to the character so everyone can truly feel the character)
---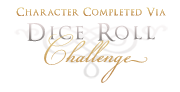 Rolled Attributes
Social Skills: Superior
Combat Ability: Underdeveloped
Resources: Improved
Allomantic Skill: Maximum
Edited by Haelbarde, 07 January 2015 - 07:33 AM.